Our Legends Staff
Neil Marshall,
Owner/Director
Neil, a father of 3 to Alex, Charlotte & William, and husband to Kyla, was born in England in 1967. He moved to North America in 1995, first to Montreal, QC and eventually settling in Dallas, TX in 2010. Neil grew up playing soccer in England, and is an avid Leeds United fan, old enough to remember the Glory Days! Since moving to North America he has continued his involvement in soccer, playing for 15 years in Montreal for Rangers FC, managing the Bell Helicopter Indoor Soccer League and also coaching his son's teams in the Metcalfe Indoor Youth Soccer League near Ottawa, ON.
I am very proud to be bringing the HappyFeet & Legends soccer programs to the city of Dallas and I am very excited to be starting the development of youth soccer players the Legends-way & giving the youth of Dallas an opportunity to become brave, creative leaders through the sport of soccer.
Pictured here with "Willie T" - Neil & Kyla's youngest and one of the next Dallas Soccer Legends!
Andy Di Duca,
Regional Director
Andy is our Regional Director and is responsible for the day-to-day operations for Dallas Legends and Happy Feet Dallas. Born in England in 1984, Andy moved to North America in 2007 after graduating with a B.A in Sports Management. He first moved to New York to work with Major League Soccer and the New York Red Bulls. He coached with the Regional Development School where he placed kids into the academy. Andy relocated to Dallas, TX in 2013 to work with FC Dallas after directing several successful soccer programs in New Jersey and Philadelphia.
Andy has always loved soccer. Playing since the sweet age of 5 years old, he has captained his High School team, represented his state, been signed to play for Hull City (Professional Club), and been called up as an England School Boy trialist. Soccer has played a huge roll in his life, both on and off the field, and Andy will always be a student of the game. He currently holds an English FA Level 1, English FA Level 2, NSCAA Advanced National Diploma, NSCAA Director of Coaching.
Since moving to Dallas, Andy has really found his footing. He's married to a Texas native, Jasmine and they share a home in Plano with their cute puppy, Willo. .
Andy's goal is to ensure that every child participating in our programs get as much out of his or her experience as possible!
Courtney Massey,
Administration Manager and Coach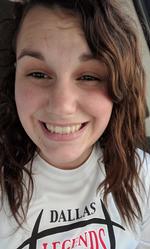 Courtney is our Full Time Administration Manager and HappyFeet Coach. Courtney was born in 1993 and is a Dallas native. Growing up in Mesquite, Courtney was introduced to soccer very early in life and played her way through middle school. Courtney has her A.A. in Business Administration and has worked with children for the last 4 years as a supervisor with the City of Mesquite Recreational After School program and a Coach with the MISD Physical Education program.
Courtney was recently married in September of 2017. After getting married and receiving her Business Administration degree, Courtney accepted an offer from HappyFeet Dallas to continue her career in Administration and working with children while she continues to get her B.A. in Business Administration at Texas A&M Commerce. Courtney loves seeing the kids smiling faces and so far has loved watching the kids in the program grow their skills, and love for soccer.