Your HappyFeet Team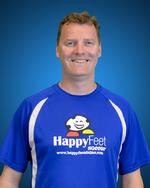 Neil, a father of 4 to Alex, Charlotte, William & Anthony, and husband to Kyla, was born in England in 1967. He moved to North America in 1995, first to Montreal, QC and eventually settling in Dallas, TX in 2010. Neil grew up playing soccer in England, and is an avid Leeds United fan. Since moving to North America he has continued his involvement in soccer, playing for 15 years in Montreal for Rangers FC, managing the Bell Helicopter Indoor Soccer League and also coaching his son's teams in the Metcalfe Indoor Youth Soccer League near Ottawa, ON.
I am very proud to be bringing the HappyFeet & Legends soccer programs to the city of Dallas and I am very excited to be starting the development of youth soccer players the Legends-way & giving the youth of Dallas an opportunity to become brave, creative leaders for life through the sport of soccer.
Rachel Hills,
Regional Director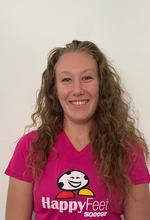 We are very excited to welcome Rachel Hills to our HappyFeet Dallas team as our new Regional Director!

Rachel moved to the Dallas area from Wichita, KS where she worked for HappyFeet Wichita & Wichita Legends as a Coach & Assistant Director of HappyFeet.

Rachel grew up playing soccer and has been around the game for years. She loves being able to help the kids find their passion, strength, and love for the game.

Come say hi to her at The Soccer Box where we will host or next HappyFeet League. Rachel is also one of the coaches for their ASPIRE skills academy, and for Dallas Legends Soccer Academy !