Your HappyFeet Team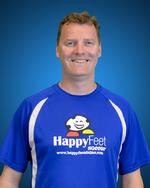 Neil, a father of 4 to Alex, Charlotte, William & Anthony, and husband to Kyla, was born in England in 1967. He moved to North America in 1995, first to Montreal, QC and eventually settling in Dallas, TX in 2010. Neil grew up playing soccer in England, and is an avid Leeds United fan. Since moving to North America he has continued his involvement in soccer, playing for 15 years in Montreal for Rangers FC, managing the Bell Helicopter Indoor Soccer League and also coaching his son's teams in the Metcalfe Indoor Youth Soccer League near Ottawa, ON.
I am very proud to be bringing the HappyFeet & Legends soccer programs to the city of Dallas and I am very excited to be starting the development of youth soccer players the Legends-way & giving the youth of Dallas an opportunity to become brave, creative leaders for life through the sport of soccer.
Caio Dos Santos,
Regional Director
Coach Caio was born and raised in Sao Paulo, Brazil, and like any Brazilian he was basically born with a soccer ball at his feet, kicking around in the backyard, or on the streets with friends, or going to watch soccer games at the stadium on a weekly basis.

In 2011 he and his family moved from Brazil to Tampa Florida, where he finished high school and went to college, in 2014 he started his coaching career for Happy Feet soccer, and later coaching at the competitive level as well.

"Working with Happy Feet has been an amazing experience being able to be involved in helping develop so many great young minds, in a very fun and exciting way thanks to happy feet amazing and proven curriculum. Nothing makes me smile more than taking "Bob the bobcat" in all kinds of fun adventures. I am very excited to be a part of the Happy Feet Dallas team, and cannot wait to get back to my daily routine of driving from DayCare to Daycare putting smiles on the little ones faces and some "Bobs" by their feet."
Courtney Massey,
Administration Manager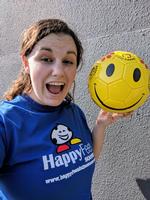 Courtney is our Administration Manager, Legends and HappyFeet Coach. Courtney was born in 1993 and is a Dallas native. Growing up in Mesquite, Courtney was introduced to soccer very early in life and played her way through middle school. Courtney has a degree Business Administration and has worked with children for the last 4 years as a supervisor with the City of Mesquite Recreational After School program and a Coach with the MISD Physical Education program.
Courtney was recently married in September of 2017. After getting married and receiving her Business Administration degree, Courtney accepted an offer from HappyFeet Dallas to continue her career in Administration and working with children. Courtney loves seeing the kids smiling faces and so far has loved watching the kids in the program grow their skills, and love for soccer.